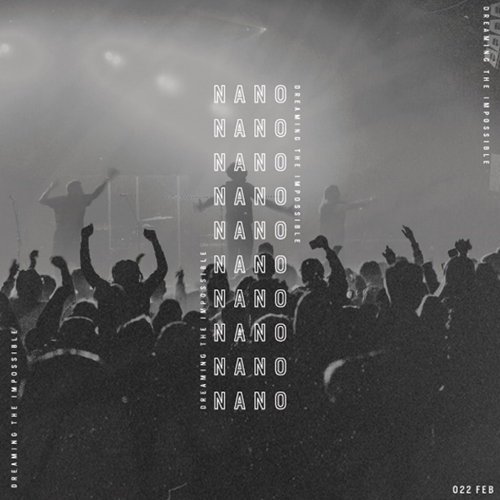 DTI Nano Event
…an evening jam-packed with some of the best things from the main Dreaming The Impossible (DTI) event!
Trent Youth Centre, Nottingham, NG7 2PX
Saturday 22nd Feb 2020
Leave from MBC 3pm; pick up approx. 9:30pm
Cost £5
Please bring a packed tea with you as dinner won't be provided; however, there will be a tuck shop on site.
Please complete the event slip below, and an accompanying Registration & Consent form if you have not already done so. Many thanks.
For more info, contact Lucy 07790720333.
Main DTI Event
DTI (Dreaming the Impossible) is an annual Christian youth gathering for young people from churches and youth organisations everywhere. It is an event which will take place 1-5 August 2020 at the Stafford Showground; for more information visit https://dreamingtheimpossible.org/ and chat to Lucy or Mark if you may be interested in going.
DTI Nano - Event consent form
Saturday 22nd Feb 2020, at Trent Youth Centre
This form must be completed by a parent/guardian in order for the young person to participate in the event.
Young person's name:…………………………………………………………..
The person to contact in case of emergency during this event is:
Name ……………………………………………………………………
Relationship to young person: ……………………………………………………………………
Telephone number(s): ……………………………………………………………………………………………
Should the above not be available, please contact:
Name ……………………………………………………………………
Relationship to young person: ……………………………………………………………………
Telephone number(s): ……………………………………………………………………………………………
Declaration
Please note that this declaration can only be signed by those with parental responsibility.
• I give permission for …………………………………[insert name] to take part in the event named above.
I UNDERTAKE TO INFORM THE LEADER SHOULD ANY OF THE ABOVE INFORMATION CHANGE BY THE DATE OF THE EVENT.
In an emergency and/or if I cannot be contacted, I am willing for my child to receive necessary hospital or dental treatment including an anaesthetic:
Yes No (Please tick)
Signed (parent or adult with parental responsibility) ………………………………… Date …./…./…
Print name …………………………………………………………………….
Privacy Notice
Under Data Protection legislation the church Charity Trustees of Mansfield Baptist Church are the Data Controller and can be contacted by ringing 01623 633778 or emailing mansbapchurch@hotmail.co.uk. We are collecting this information to enable the church to run Youth groups safely and ensure we can contact you (or other nominated adult) in case of an emergency. Data Protection legislation allows us to process this information as we regard it as being in the church's legitimate interest. If you are unable to supply the information requested then we will be unable to accept your child at the Youth groups. The information you supply will be held in paper form in a folder which will be kept in a securely locked cupboard in the church. Only the Ministers and the activity leaders will have access to this information. The information will be kept for three years after the form was completed unless a safeguarding incident or concern is raised.
We will NOT pass on this information to anyone else. You have the right to ask to be removed from this circulation list at any time. If you are concerned about the way your information is being handled please contact us using the above details. If you are still unhappy you have the right to complain to the Information Commissioners Office.