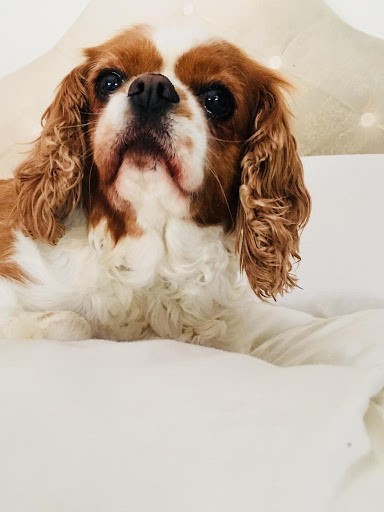 Do not be anxious about anything, but in every situation, by prayer and petition, with thanksgiving, present your requests to God. And the peace of God, which transcends all understanding, will guard your hearts and your minds in Christ Jesus.
Meet Molly the Dog She is  a 10 year old king Charles Spaniel. You may be wondering why we are introducing you to Molly? No she's not famous, she hasn't been on Britain's got talent,  but she can do few tricks.  She can sit and stay  like most dogs if you have a few treats to bribe her with, she can also find treats hidden in in another room.  She has climbed Mt Snowdon twice but isn't a working dog, she is just an ordinary family pet, in fact she is  part of the Burt family. She follows Dan around the house where ever he goes including the toilet if he doesn't get the door shut in time! The best time of the day for Molly is at the end of the day just sitting at her master's feet.
Dogs are known for their loyalty and their trust, when you grab the lead and open the door, they don't question where they are going they simply trust and follow as it's the master who is leading, it doesn't matter if its Mt Snowdon, down the field, the dreaded trip to the vet, or even the bath!  The Master is with them so it will be all ok. Dogs have such a simple trust in their owners, they don't worry if they will get fed, walked or if they'll be loved, they simply trust that they will be. Their relationship with their owner assures them from how they have been treated in the past that in the present moment  it will also be the same.
We met Dan and Amy and a few others for our first online discovery group the other night, we looked together at Psalm 46, verse 1 says God is our strength and refuge, and ever present help in times of trouble so we will not fear. The guy who wrote this went on to say, even if we are in the very worst situation we can imagine that God is with us and is our fortress and in fact we can even be glad and rejoice because God is with us, so the writer encourages us to be still ( stop be anxious, worried or stressed) and know that He is God, bigger than the problems, bigger than the nations, and is working his purposes for the good.
We finished our group with a question What will we do? How can we apply this Psalm to our lives? Dan spoke the simplest, most profound thing of the evening, "You have just got to be like Molly the Dog and TRUST.
Final Thoughts
A great way to overcome anxiety is to commit Scripture to memory. This helps you to draw upon the comfort and peace of God when you are dealing with anxious times in your life. Or how about just sat at the Masters feet, looking up and praising him with loved filled worship.
Discover more
Matthew 6:25-34
"As you walk through the valley of the unknown, you will find the footprints of Jesus both in front of you and beside you."