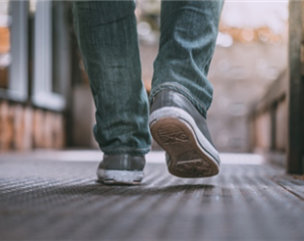 This is what the Lord says: "Stand at the crossroads and look; ask for the ancient paths, ask where the good way is, and walk in it.
The good way to walk in.
Just before lockdown Jane and myself went to Leeds to see a concert for our anniversary. We booked a hotel near the train station and with what looked like a 20-minute walk to the venue Jane thought we should get a taxi. But I thought it's dry and it would be simple.  I used my phone with google maps and just tried to follow the black dotted line between the hotel and the venue, with the thought we could stop for a meal on the way. After some time wandering and lost and not finding anywhere suitable to have an anniversary meal, Jane was getting frustrated at my organisation and navigation skills. She said 'Why don't you just ASK somebody? My pride broken at this point and it was now starting to rain, I thought I'd do it the old way and ask someone for directions!
Are the new ways always better than the old ways? Clearly some things are.  The advances in medicine, knowledge and technology in every aspect of life has made things faster, more efficient, more accessible and in many ways better. But in our information saturated world, when trying to live out our Christian life, is the new really better?   After all, we have access to more knowledge and information than any generation, yet truth is hard to find!  We can soak up Gigabytes of pretty useless nonsense on a daily basis, but can find it hard to just be still and be in God's presence for 5 mins. We have so many ways of connecting with people from anywhere in the world, but loneliness is an increasing problem and deeper connectedness with people can be superficial, or shallow, despite our need to be known and loved. In the demanding environment of the workplace, how do we find time for relationships and self-care? In a consumer driven world, how do we keep life simple, prioritising giving over receiving?
Jeremiah told the people of his day, who were off track, to ask for the ancient paths. What are the paths? They are the ways of God and that which he blesses. They are the way of godliness, righteousness, peace and joy. They are the way laid out in Scripture…the written Word of God given to us to be treasured and followed. This is the good way that we are to walk in. Why? because they simply lead us to Jesus, to know him more truly, to love him more deeply and to live out his ways more simply and obediently.
Discover more
1 Timothy 4: 1-9
Walk in the good old way (Jesus's) and you will find your walking in that way will be easy and pleasant; you will enjoy both your God and yourselves.