By CLIVE AND TRACY BUTCHER
Monday 07 December 2020
ZECHARIAH AND JOHN THE BAPTIST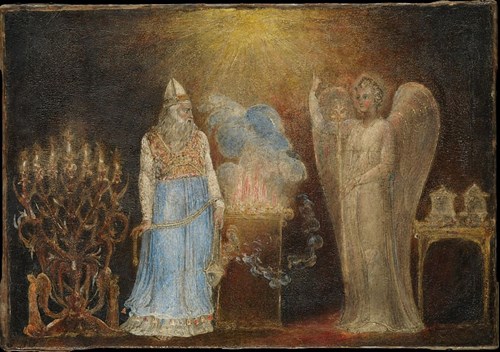 (William Blake – The Metropolitan Museum of Art) 


There are a few Zechariahs in the Bible which can be confusing but fortunately only one is in the New Testament. Zechariah was a priest, a descendant of Aaron. There were a lot of priests, too many for the duties required in the Temple. They were divided into sections, Zechariah belonging to the section of Abia. Even within the sections there were many priests and so lots were drawn to choose who would enter the inmost court and burn incense to the Lord at the time of daily morning or evening sacrifice.  
 We can imagine that Zechariah would have been thrilled to have been chosen yet he could not have anticipated what would happen next! By the altar of incense appeared the angel Gabriel. Zechariah and Elizabeth (his wife) were childless, a stigma in Jewish society at that time. Gabriel informed him that Elizabeth would bear a son who would be filled with the Holy Spirit and should be named John. Zechariah was understandably sceptical in view of his advanced age and that of his wife. Because of his doubt he lost the power of speech until the birth of John. One can sympathise with him (particularly as Abraham and Sarah's laughter under similar circumstances had gone unpunished). Yet this is what he had prayed for and despite being somewhere where the power of God might have been at the front of his mind, he doubted. How often do we put self-imposed limits on what we believe God can accomplish? 
The hesitation of Zechariah was brief and subsequently he demonstrated obedience, naming his son John as instructed and delivering a powerful prophecy (the Benedictus). Presumably his obedience continued as he saw his son pursue an unusual career path in the wilderness, watching John's own obedience as he played his part in God's continuing plan. 
https://youtu.be/ne9DOokin9s   
 ( Song of Zechariah- David LaChance Jr)
Prayer
  Heavenly Father , we praise and thank-you for all your wonderful world we see around us. We pray that you will help us to see
you more in our everyday lives and the way we care for each other as your spirit dwells in us. 
In your name , amen.