By CLIVE BUTCHER
Tuesday 28 July 2020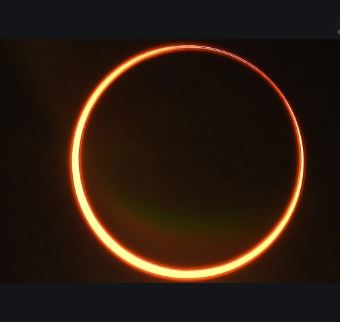 Another Eclipse image !  This is the annular eclipse from last Sunday , sadly not visible from Mansfield. An annular eclipse occurs when the Moon is a little further away from the Earth and does not entirely cover the Sun . So no corona around the Sun , but an amazing ' ring of fire'.
You may have seen articles about the eclipse linking it to the end times. Certainly with all that is happening in the World at present such thoughts are not unreasonable.  There is a wealth of writing concerning  the Second Coming , what signs are to be expected and those that have been fulfilled , which I must say I find confusing.
 
Matthew 24 v 36 says '  But what about that day and hour no one knows , neither the angels of heaven , nor the Son but only the Father'. 
We cannot know the day but if we constantly strive to live our lives as the Lord as taught us this will not matter . Plus we can enjoy the wonders of Gods universe without worry!
Prayer
  Father,  thank–you for this wonderful  Universe that you have created , may we focus on that and the numerous blessings we receive each day knowing you are in control whatever is happening. Amen