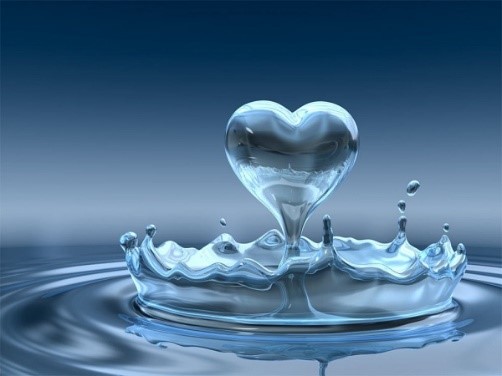 Jesus said "If anyone thirsts, let him come to me and drink. 38 Whoever believes in me, as the Scripture has said, 'Out of his heart will flow rivers of living water.'
There are many word pictures related to the Holy Spirit in the bible, including fire, wind, and a dove. Jesus also used the picture of water, he said "If anyone believes in him that out of their heart will flow rivers of living water. He said this about the Holy Spirit, for whom those who believed in him were to receive, for as yet the Spirit had not been given, because Jesus was not yet glorified. (Crucified and resurrected).
Water is a great picture word because without water there is no life, without water how will we be clean? Without water nothing grows and produces fruit and beauty. The Holy Spirit is as essential for Spiritual life as Water is essential for physical life.
This Sunday is Pentecost the day the Holy Spirit was poured out upon the first believers
 The Same Holy Spirit is continually being poured into believers' lives today. The same Holy Spirit is in this world revealing the truth and people's need of Jesus to save them from their sins. The same Holy Spirit brings new life to everyone who will repent and believe in Jesus. The same Holy is the one who gives supernatural gifts and empowers all believers today for the works of God's kingdom and the its same Holy Spirit who enables us to deeply know and love the Lord and call Him Abba Father (Daddy).
Oh that we might be drenched in the living waters of the Holy Spirit, and be refreshed, renewed, and overflow with the rivers of living water out of our hearts in the love and power of Jesus, may our thirsty Souls be refreshed.
Jesus didn't say trickles of waters of the Holy Spirit will flow but He said RIVERS!
WE PRAY COME HOLY SPIRIT FLOW LIKE A RIVER THROUGH OUR DRY AND THIRSTY SOULS AND BRING NEW LIFE TO US, AND TO THIS WORLD.
Discover more
Numbers 20 v 1-11, John 7 v 37-39
Christ is not a reservoir but a spring. His life is continual, active and ever passing on with an outflow as necessary as its inflow. If we do not perpetually draw the fresh supply from the living Fountain, we shall either grow stagnant or empty.