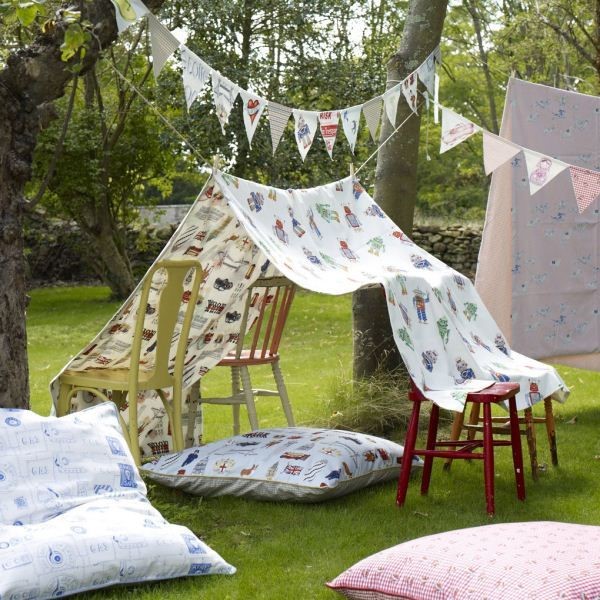 The Word became flesh and made his dwelling among us. We have seen his glory, the glory of the one and only Son, who came from the Father, full of grace and truth.
During the winter months one of the things we loved to do as a family, was to build a den, out of blankets, cushions chairs etc and we would put a TV inside it and all watch a film together before bed time. There must be something in our nature to want to build somewhere comfortable to be. I always remember as a child many happy days in the summer holidays when we could just roam for days in fields and woods with our mates and we always would end up building dens out of trees or the bales of hay that the farmers put together, and as we got older would camp out in these dens. I was in a school last year and they had den building and bush craft as part of their weekly curriculum, a great key skill that all children should learn.
The seventh and final biblical feast is the feast of tabernacles. God has always wanted to dwell with mankind to be near to us and for us to draw near to him in a relationship. This theme is seen all the way through the bible from Genesis to Revelation. God's people were instructed in this feast to look back and remember with joy and thankfulness how God dwelt with them and continued to be faithful to them during their time of wandering in the desert. It reminded them that it was only temporary and they were on a journey to a more permanent place of dwelling with the God. How did the Lord ask them to celebrate? By building a den and camping out in it for 7 days, wow what fun!
As Christians, we see a fuller understanding of this feast as we look at Jesus, who John said literally came to dwell among us, the Greek word for dwell in John 1 v 14 means to "pitch a tent" or tabernacle, and because of his death and resurrection has made us a dwelling place for the Holy Spirit. But even this tent was only meant to be temporary. Why? Because we also look forward to the return of Jesus, when our Joy will be complete and the permanent place of dwelling for God will be with us. "And, I heard a loud voice from the throne saying, "Look! God's dwelling place is now among the people, and he will dwell with them. They will be his people, and God himself will be with them and be their God." Revelation 21v 3
Until that time we continue on our Journey filled with the Holy Spirit who brings alive this hope as we look forward, reminds us of God faithfulness as we look back and draws us deeper into relationship with him now as we look to Jesus.
Discover more
Leviticus 23 v 33-44
Heaven and earth, all the emperors, kings, and princes of the world, could not raise a fit dwelling-place for God; yet, in a weak human soul, that keeps His Word, He willingly resides.