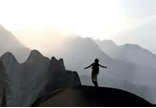 I lift up my eyes to the hills-- where does my help come from? My help comes from the LORD, the Maker of heaven and earth.
There are not many people who come much tougher than Bear Grylls, ex UK Special Forces, an adventurer and daredevil climber, whose TV show Man v wild has reached an estimated 2.1 billion viewers in 80 countries.
In his autobiography Mud, Sweat and Tears Bear describes the sheer physical and mental endurance that is needed to have completed some of these adventures. He survived the SAS, and a broken back from a parachute jump. After his recovery he climbed mount Everest and later joined the French foreign legion and a variety of many other extraordinary challenges. Anyone feeling tired after reading this?
One of the refreshing things about Bear's book is his openness about the struggles mentally, emotionally, and physically. He reveals things about himself with great honesty about vulnerabilities, his anxiety, fear of heights, his sense of weakness. Not the attributes you would expect from someone like him. Bear is a Christian and his faith shines through this book. He writes how his faith has been a great inspiration to him, he writes "it's been an empowering presence in my life, helping me to walk strong when so often I feel so weak." One of the troubling statistics of our time concerns young men who get to a crisis point without seeking help. As a Pastor I see this all too often and the serious consequences that can follow if people suffer in silence rather than getting help in the right places. This is what makes Bear's book such an inspiration, that if someone as tough as he is has weakness and anxieties and can acknowledge the need for help, it is something we all can do, maybe not expressed in a book, but at least it can be with trusted people the Lord has placed around us we who share the journey of life with.
Our Bible reading this week is continuing our theme of finding hope in difficult times. This week we will be looking at Psalm 121. There are so many of the Psalms that have verses that need to be committed to memory and drawn upon when in times of need. I lift up my eyes to the hills-- where does my help come from? My help comes from the LORD, the Maker of heaven and earth. In the time this was written the hills or high ground were the places of safety and help, but the writer is saying that God himself is a far greater personal help to him than the hills.
Can we have that same confidence? YES! As we have a firm promise of help because the Lord Jesus Christ died on the very hill the writer of the Psalm was looking up to in Jerusalem, nailed to a cross, where He paid with his life for our sins. He is the one through whom we have access to God and can call Him our Father, our friend, and our helper!  Has Jesus ever let you down?
Discover more
Psalm 121 v 1-8
Lord, I bring to you my burdens and you know my situation. you know I cannot make it without you. Comfort my heart, give me strength & help me carry on.