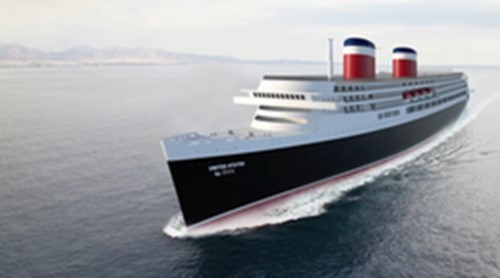 For all the peoples walk each in the name of its god, but we will walk in the name of the Lord our God forever and ever.
In the 1940's the United Ship Line Company was commissioned to build the SS United States, which was the largest ship ever built in America costing nearly 80 million dollars. (£50 million)
She was designed by American naval architect William Francis Gibbs to be the fastest ship of its type and to be a troop carrier to transport some 15,000 men and equipment into battle. It could travel 10,000 miles without refuelling, at speeds of 44 and above knots. In 1952 the ship was completed but it never carried any troops, instead it was used initially for fast transatlantic travel, its broke records that still stand to this day.
Therefore, instead of its original purpose, it became a luxury liner carrying pretty much only wealthy people across the Atlantic. In 1969 it carried its last customers and is now in Dock 88 on the Delamere river where it has been a popular tourist attraction. Over the last few years It has changed ownership several times but due to its decay and the cost to maintain or restore it, no one knows quite what to do with it.
The ship had enormous potential but never FULLY FULFILLED what it was designed/purposed for. Of course, it found a purpose that seemed to be good and useful and quite remarkable in many ways leaving a mark on history, but never the less fell far short of the original design.
We were made by God in His image, to fulfil His divine purposes for our life and to join with Him in fulfilling His purposes for the world which is to bring/reflect the glory of God our creator. To do so we have to walk fully in His purposes. This applies to us as an individual but also as we study today in Acts 11, we will see God's clear purpose for His church, and hear God's call for us to continue to walk in them in His name forever!
Discover more
Acts 11v1-18
"If you walk and talk with God, you will never miss the direction to your divine future. Be bold and offer your heart to be led by God."